Le Port au Croisic, 1905
From the middle of the 19th century, with the development of the seaside resort, Le Croisic became a very popular place to visit. The lively port with its boats, its sardine boats with colourful sails and the changing lights of the wild Breton coast and the Atlantic Ocean attracted the attention of many painters such as Paul Signac, Henri le Sidaner, Maxime Maufra...
Jean Metzinger was also very attracted to Le Croisic, which was only a few kilometres from his home town of Nantes. The picturesque views of the site and the coastal light inspired the artist in the early 20th century.
Metzinger painted Le Port du Croisic in 1905. More precisely, it is a view of the pier and the large jetty of the Port du Croisic.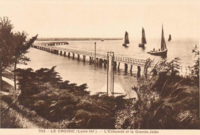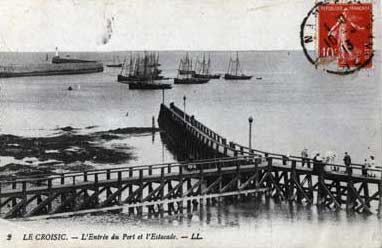 Le Croisic, the Bridge and the large pier Le Croisic The entrance to the port and the Bridge Old postcard Old postcard

The composition of Port de Croisic, 1905, is simple in appearance and rigorously constructed: a high horizon line, the large jetty, the lighthouse on the left, and the louvered pier on the right and in the foreground. The boats in the centre of the picture balance and enliven the whole. The broad neo-impressionist strokes vibrate next to each other and seem to float on the thin preparatory layer of paint, creating a subtle play of reflections and shimmering water. The palette, with its tones of pinks, purples and greens, conveys a calm, gentle atmosphere and, in the artist's words, a certain "chromatic poetry".
The theme chosen is also a tribute to the masters of Divisionism and evokes Signac's famous Opus or Seurat's views of Gravelines, which the young Metzinger certainly had the opportunity to see.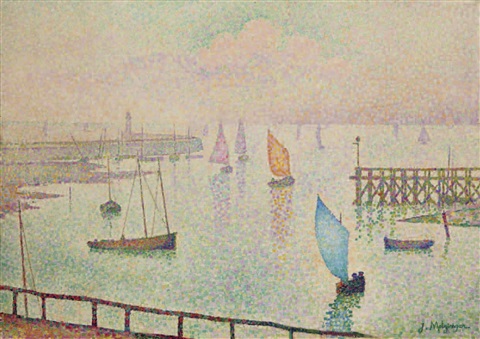 Jean METZINGER
Port du Croisic, 1905
Oil on canvas
Private collection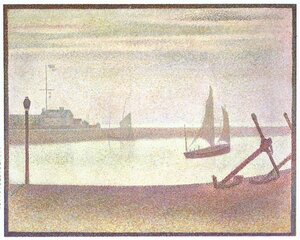 Georges SEURAT
La Manche à Gravelines, le Soir, 1890
Oil on canvas
Museum of Modern Art, New York, USA