Composition, 1964
Certificate of authenticity by Mr. Pierre-François Moget, May 28, 2022.
Composition, painted in 1964, marks the culmination of Geer van Velde's exploration of new fields, after his famous and long series of Workshops. Through a subtle play of balance and imbalance based on large orthogonal lines of force, the artist continued the evocation of vibration and even movement that he had begun in 1962. The rigorous composition is built around a Greek cross that delimits four equivalent rectangular zones at each corner of the canvas. The movement is created by the voids and solids, the fine oblique lines in the centre of the composition and the curves delimiting the contours of the outer elements.
Composition, 1964 was to be the starting point for a major work by Geer van Velde, painted seven years later, in 1970, which is currently in the collections of the Gulbenkian Museum in Lisbon. According to Geer van Velde specialist Pierre François Moget,"a gap of six years is not surprising between a painting that establishes the very successful basis of a composition and its development in large format. This is usually the time needed for the artist to first 'mature' the transition to a larger format by observing the painting in the studio and producing a few intermediate sketches in pencil or gouache, and then the execution time needed for the determined large format. Geer van Velde always had several paintings in progress and it was rare that a large format would take him less than three years to complete once it was started. So it can take a long time from an idea being fixed and finished on a medium format to its final development."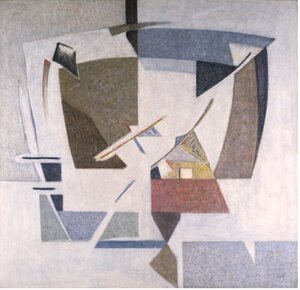 Geer VAN VELDE - COMPOSITION, 1970 - Oil on canvas, Signed with initials lower right GvV - 162 x 162 cm
Gulbenkian Museum, Gulbenkian Foundation Centre for Modern Art, Lisbon, inv. PE80